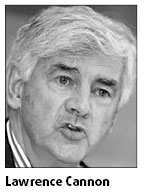 Canadian Prime Minister Steven Harper may visit China this year to step up a "frank, friendly and forward-looking" relationship, Canadian Foreign Minister Lawrence Cannon said in Beijing Tuesday."Canada shows its willingness to engage China in a closer manner in bilateral and multilateral relations so Sino-Canada relations will be promoted towards the right direction," Cannon said during his first visit to China in
his current capacity.
In other news
SHANGHAI: A man pleaded guilty here Monday to the murder of Canadian model Diana O'Brien.Chen Jun, 18, said he murdered the 23-year-old in her apartment on the night of July 6, before robbing her of about 11,000 yuan ($1,600) worth of items, including a laptop computer, a camera and a cell phone, the Shanghai No 1 intermediate people's court heard. Chen, who moved to Shanghai from Anhui province in May, said in court that he did not know O'Brien, but chose her because security at her apartment building on Zhaohua Road in the Changning
district of Shanghai, was lax.